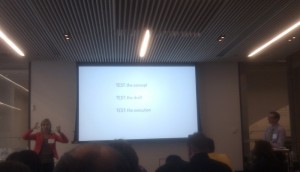 On last Wednesday we had the opportunity to be present on the Activate Print seminar which was held in Toronto. We had to took a train from Montreal to join the party.
Background
Up until the beginning of this year, Layar was a company focusing on GEO related AR. However -from what I think are business reasons-, the company decided to change its focus to marker base AR (i.e image recognition). Our stand is that everything that helps popularize AR is great! that being said, the shift gave us doubts on what's the future on Layar take on GEO related AR. This is important to us, since we base our AR in Layar GEO platform.
Seminar
Layar was founded by three pioneers, among them a woman named Claire Boonstra. I can say a lot of things, but you better check this, it will summarize her contributions to the humanity 🙂 We were lucky enough to have her gave the talk and it was quite enjoyable.
Given that she was the one coming here to represent Layar, we took the opportunity to remind and request her three points we need from Layar to put on their priorities:
Have an Android player SDK available (a la iOS). The Android shortcut generator should be kept (it works fine), but a player SDK will be great.
Bring back the Transparent screen capture function that was available until Layar 4.0. Because of this, we have to juggle on our developing devices between version 4 and the latest version of Layar just to be able to capture this images.
Last but not least: Don't forget about GEO. She was kind enough to tell us that they won't. That GEO and vision will eventually find a common path, we are all just still trying to figure it out. We agree.
On a side note, I brought with me a friend who knew nothing about AR. Before the seminar he asked me some things, but I told him: wait, they'll explain it on the seminar. Later while he was seeing the presentation, he was like:
WHAT?!?!? How?!?! This is amazing! Incredible! I have a million ideas on my head about this!
Yeap! That's the same reaction we see on people when the get AR.
Unfortunately, we couldn't stay until the end of the presentation as we had to take the train back to Montreal. You know, here in North America, high speed trains are far fetched ideas. Anyway, it was a wonderful day to spend in Toronto, even with rain. 🙂